Cinema Programme "Dijous de Pel·lícula"
A VUELTAS CON LO REAL
Coordinated by: Javier Moral Martín
In a historical moment in which the real seems to have been diluted in a magma of representational practices, it is a good time to discuss again about what we agree to call reality. Among other questions, we should ask ourselves about what relations exist between the real and what simply seems real; or what links are established between the real and the objective; or even, what we can come to know of a reality that has already passed. A vueltas con lo real is proposed as an exploration of the problematic concept through cinema, disarticulating (or at least questioning) the traditional categories that have defined the history of the moving image. Is it that only documentary cinema can confront the real? Is it that fiction cinema cannot interrogate the world around us? On many occasions, the boundaries are crossed and the tasks are exchanged: the documentary can become fiction (or even make it its raison d'être) and, in turn, fiction can shed more light on the world than its opposite.
Every Thursday at 6 p.m. at the Casa del Alumno
Free admission until full capacity is reached
O.V. with Spanish subtitles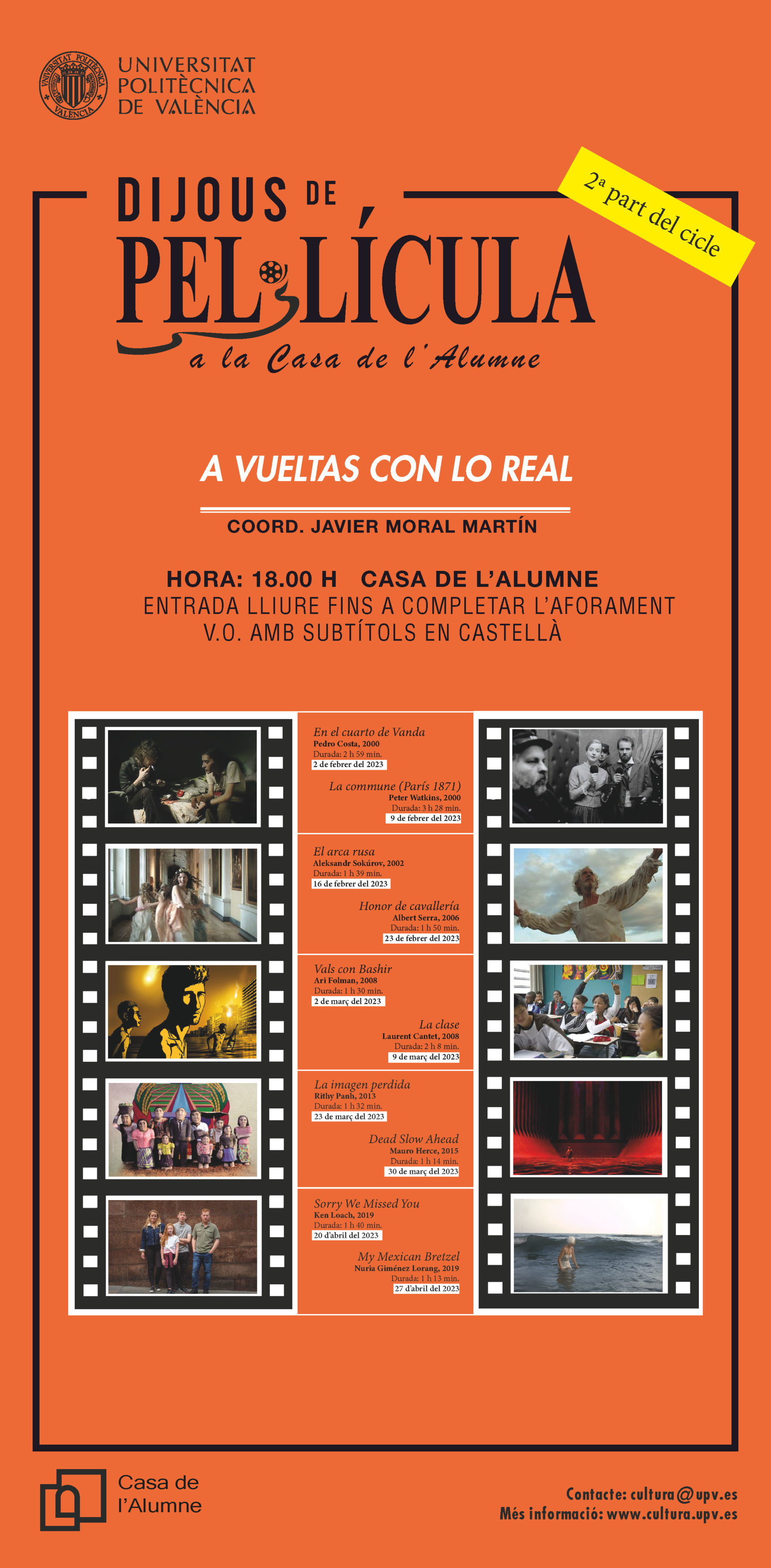 MOVIES
2022
OCTOBER
October 20th. Nanook el esquimal (Robert J. Flaherty, 1922)
October 27th. Tabú (F. W. Murnau, 1931)
NOVEMBER
November 3rd. La batalla de Argel (Gillo Pontecorvo, 1966)
November 10th. Titicut Follies (Frederick Wiseman, 1967)
November 17th. F for Fake (Orson Welles, 1973)
November 24. Zelig (Woody Allen, 1983)
DECEMBER
December 1st. Sin sol (Chris Marker, 1983)
Desember 15th. ¿Dónde está la casa de mi amigo? (Abbas Kiarostami, 1987)
2023
JANUARY
January 12th. La delgada línea azul (Errol Morris, 1988)
January 19th. JLG/JLG. Autoretrato en Diciembre (JL. Godard, 1994)
January 26th. Tren de sombras (J.L. Guerin, 1997)
FEBRUARY
February 2nd. En el cuarto de Vanda (Pedro Costa, 2000)
February 9th. La commune (Peter Watkins, 2000)
February 16th. El arca rusa (Aleksandr Sokúrov, 2002)
February 23th. Honor de cavallería (Albert Serra, 2006)
MARCH
March 2nd. Vals con Bashir (Ari Folman, 2008)
March 9th. La clase (Laurent Cantet, 2008)
March 23th. La imagen perdida (Rithy Panh. 2013)
March 30th. Dead slow ahead (Mauro Herce, 2015)
APRIL
April 20th. Sorry We Missed You (Ken Loach, 2019)
April 27th. My Mexican Bretzel (Nuria Giménez Lorang, 2019)